roymond
I am a lone artist who occasionally collaborates with others but for the most part I produce my own flavors late at night.
covers
Some commercial songs, some fellow SongFighters'. Covers allow me to reinterpret someone else's song, which frees up the creative process and focuses on arrangement and production.
kids
Here are some songs I've created with, for or about my kids. Or other kids. Or just the whole "kid" thing that gets a lot of attention. Especially where there are people under, like, 18...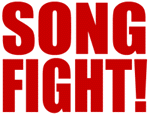 songfight
Songfight.org is responsible for resurrecting my musical ambitions. So I've written most things these past 6 years for these various week-long song-writing competitions.
xmas
Xmas is a time of quiet reflection and joy. What's not to love?
Well, here's something to think about!
regimechange
Songs inspired by our 43rd President!
catalog
Full listing, in reverse order...